On August 14 another devastating earthquake struck the island nation of Haiti. Over 2,000 people were killed, more than 12,000 injured, and some still missing. The aftershock tremors in the following weeks drove many more Haitians into the streets.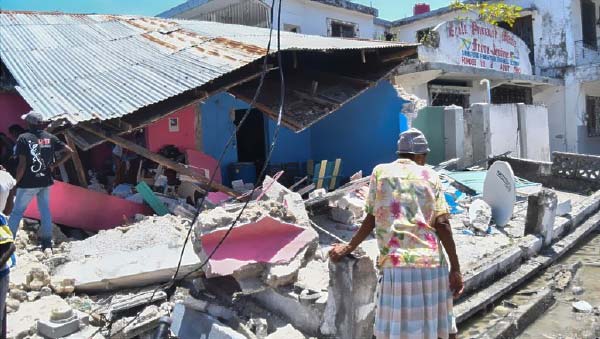 A woman stands in front of a destroyed home in the aftermath of an earthquake in Les Cayes, Haiti, on Aug. 14. (AP Photo/Duples Plymouth) ASSOCIATED PRESS
Haitian Prime Minister Ariel Henry spoke of the nation being physically and mentally devastated, saying the nation was on its knees. Haiti's earthquake event on August 14 was centered 13 kilometers (just over eight miles) south-southeast of Petit Troup de Nippes, and was widely felt across the region including all of Hispaniola (Haiti and Dominican Republic) and the islands of Jamaica, Cuba, and Puerto Rico, with estimates of over 1 million people exposed to very strong or severe shaking levels.1
According to UNICEF, nearly five hundred thousand children have limited or no access to shelter, safe water and food. FTN has several great partners on the ground in Haiti, focused on helping the neediest families navigate the pandemic and general poverty that has plagued Haiti for many years. The biggest need, according to our leaders on the ground, continues to be food. The prices at the markets continue to be very high, making it very difficult for families to purchase the amount of food they need.
Below is one example from a ministry focused on children: "My mission receives children who live below the poverty line, searching for food to eat, clean water to drink, and a safe place to live. Clean water for drinking, cooking and bathing is in short supply, which continues to fuel the spread of various waterborne diseases. Three out of five children in my mission risk going to bed hungry every night. Based on this identified need, the vulnerable child feeding program specifically addresses child hunger and ensures that children suffering from food insecurity receive nutritious meals for a few months. Food has a profound effect on the health of children, helping to maintain age-appropriate weight. With sufficient nutrient meals, they can avoid certain health issues, stabilizing their mood and sharpening their spirits. Food also has a profound effect on the feeling of mental and emotional well-being of the children, alleviating and preventing conditions such as depression and anxiety."
 FTN has been supplying nutritious fortified MannaPack Rice Meals packaged by Feed My Starving Children to this and other missions across Haiti. Because food was already on the ground, they were able to respond immediately to the hardest hit earthquake victims. Also, thanks to the recent generosity of our donors, Feeding The Nations shipped 2 containers with 544,000 meals each, just a few weeks ago.
We are grateful to our partners on the ground in Haiti. They are not ashamed of the gospel of Christ. It truly is the power of God that brings salvation to everyone who believes. In the midst of darkness, poverty, and hopelessness they are bringing another generation into God's Kingdom.
Thank you for your love for God's children, your prayers, and your generous support. Your support is what makes these missions possible.

https://www.usgs.gov/news/magnitude-72-earthquake-haiti 1