Listen to Pastor Steve, or read his letter below

This is a season of celebrating beauty. We search for the perfect gifts, wrap them in pretty paper and tie them up with ribbons. We decorate our homes and play inspiring music, all to remember and honor the most perfect gift: our Savior.
This year, you're invited to give a gift that may not be shiny and beautiful. Honestly, it's more like nuts and bolts, and down to earth gritty details. But it's important and vital to our mission of feeding hungry people around the world.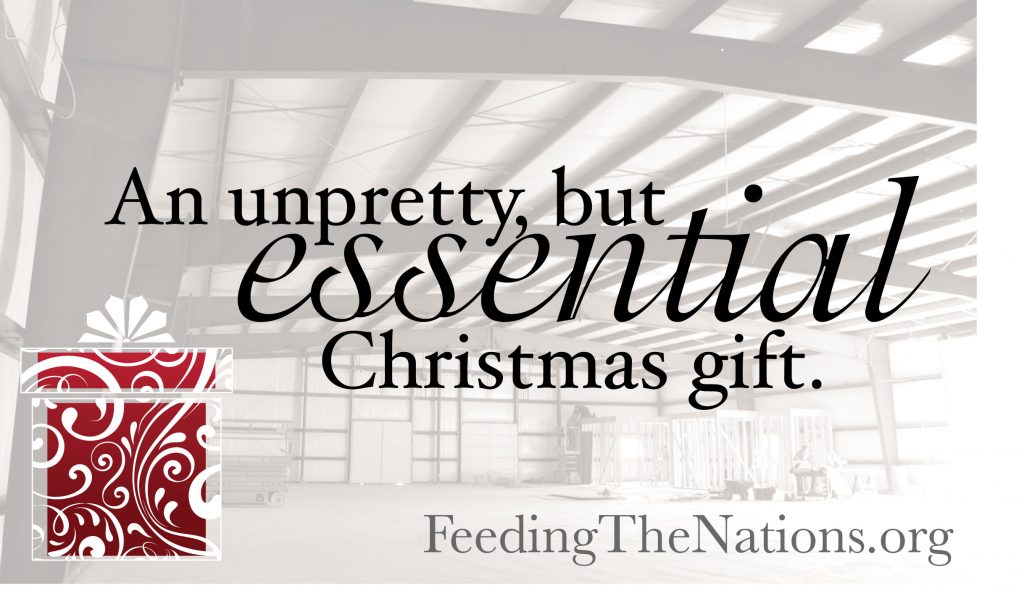 Jesus said, "The poor you will have with you always." He also said, "Give them to eat." We can do just that. The job is big, but not bigger than our God!
You may not realize the many steps involved from procuring food, all the way to making certain that the food is given to a child in desperate need. One huge step is a place to assemble the food, medical supplies, building material and many of the things required when helping those in crisis with disaster relief and food.
As you know, the Lord placed on our hearts a vision to build a warehouse of our own at our ministry headquarters in South Bend, IN. This warehouse ensures that we are able to respond quickly and efficiently to people around the world. We can gather, store and assemble food and supplies, sending off the loads by truck in containers, which can hold up to 272,000 meals.
The good news is that, thanks to the generosity of many, the warehouse is now standing on our property and we were able to dedicate it a few months ago. But more work needs to be done for absolute completion and operating readiness.
A wonderful brother in the Lord and Pastor, Lawson Perdue from Colorado Springs, has given Feeding The Nations a gift extending a challenge. If we can raise $10,000, Lawson's church will match every dollar given! You cannot imagine the joy I felt when he told me what he wanted to do.
What an amazing opportunity! Will you be part of this challenge to double every gift given up to $10,000? Can I count on you? It isn't the type of gift you'll wrap and place under your Christmas tree this year, but this gift will have the ability to make a kingdom impact, an impact for eternity!
So I ask you to prayerfully consider how you can help us reach this goal of receiving $20,000 this Christmas. Please help us complete the God-sized dream we were given to share our abundance with those in critical need around the world. From personal giving, to ministries and business, let's get this accomplished.
We determined not to borrow money from the bank to construct this warehouse, and we have kept that determination. Please pray, and if the Lord touches your heart, give. As we contemplate the gift of Christ our Savior and thank God for the close of this year, we are believing for miracles! We need your most generous gift.
Let's be the hands and feet of Christ this Christmas. Let's be His love in action by finishing this warehouse, so in 2017, we can focus even more of our efforts on feeding and loving the least of these.
Think of all the good that we can do together to bless the forgotten of the world.
Thank you for your prayerful consideration and may God bless you.
Your Friend and Brother,
Steve Sumrall
Simply click the button below and designate "New Warehouse Project" to take part in this matching gift challenge:
If you would like to give more than just sweaters and plush toys this Christmas, then consider giving gifts that can change lives and bring hope to the hopeless. Make your donation in the name of someone on your gift list. Then print out one of these free printables to let them know that their gift fed the least of these.
Stay up-to-date with us on our Facebook and Twitter pages. Together we can make a difference. Together we can feed nations of hungry people.