The Beans & Rice Challenge is under way! And we have a free T-shirt for one lucky winner!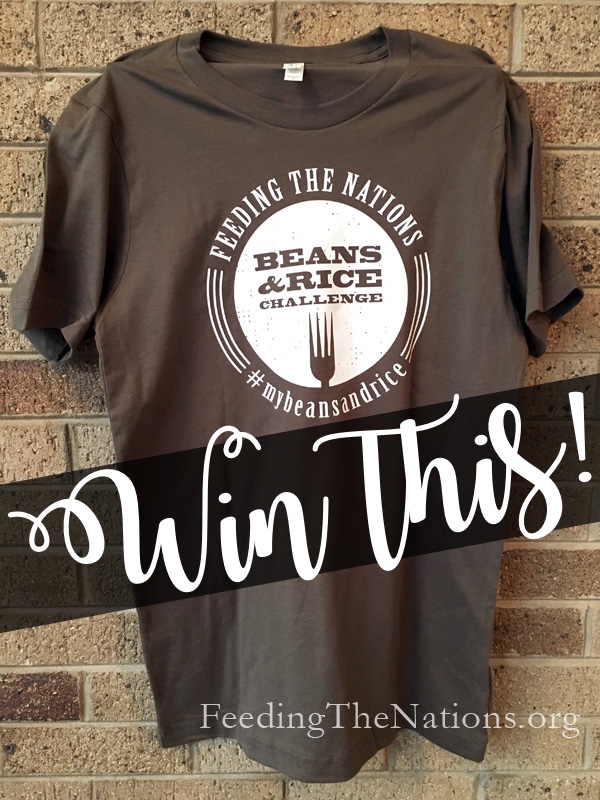 Enter to win a T-shirt that will serve as a great conversation starter and opportunity to tell your story of how you helped feed hungry people by eating from someone else's bowl for one week. The shirt is available in adult sizes S, M, L, XL and XXL. The contest ends Sunday, October 22 at 12:00 a.m. (eastern). Enter to win and good luck!
Want another way to get a shirt? They are available to anyone who donates $25 or more. To do that:
Choose "Beans and Rice Challenge" in the gift designation field.
Donate $25 or more.
Specify your shirt size (S, M, L, XL or XXL) in the message area.
Submit the form.
If you're more of an analog type, simply mail or call us with your donation and request (contact info can be found at the bottom of this page).
For more information on the challenge, take a look at these posts:
Be sure to commit to joining the challenge. Mark your calendar now. Encourage your friends and family to take part. Make this a learning experience for your kids. Together we can make a difference. Together we can feed nations of hungry people.
Follow us on Pinterest to find recipes for your five-day challenge. Stay up-to-date with us and learn about upcoming giveaways on our Facebook and Twitter pages. Sign-up for our email list to receive updates, recipes and encouragements along the way.